Hi ... my name is Danny, and I'm uncomfortable. I find all these changes overwhelming, intimidating, and at times … even scary. I just started a Twitter account several months ago, so I could connect with other educators, and I'm still not sure what some of the functions are. I felt a bit foolish a few weeks ago when a friend showed me something simple like how to tag people in a picture. Our system is moving to all things Google, and that is a bit unnerving. I knew a little bit about Power Point, Excel, and Word, and now I'm having to figure out how to use Docs, Slides, Forms, and Sheets … not to mention a whole new email system. Right now, I'm a little embarrassed that I can't figure out how to store and retrieve all my info on Google Drive. I just started a blog this month, and I barely have a clue what I'm doing there. I just started an Instagram account, and my son told me I screwed up my first picture. Yep … it's fair to say that I'm uncomfortable.
But here's the thing: I'm absolutely certain that I'm growing. And I'm equally certain that these changes will allow me to be more effective in my job. I have made a decision that my commitment to growth must override my desire to stay comfortable. Make no mistake about it, venturing into uncharted waters brings a level of vulnerability. There is some risk that is inherent with any change. It can be challenging … but we must embrace the changes anyway. The risk is worth it.
Imagine the teenager who wants to be a great football player, but he remarks,
"I'm just not into lifting weights."
Or the aspiring gymnast who says,
"Stretching just isn't my thing."
It is easy to see how naive, short sighted, and absurd these sentiments are. When people say these sorts of things, we can't take their commitment to their goal seriously.
Have you caught yourself saying, "Technology just isn't my cup of tea" or "I see how that's good for some people, but I'm not good at technology"? I know I have said many times, "I'm just not a technology guy."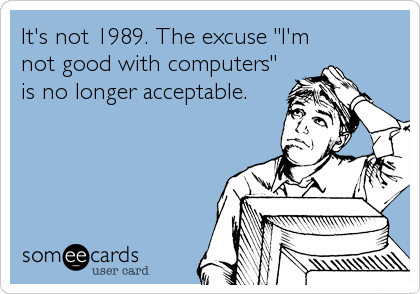 I want to be the best, so I have made a decision to jump in "head first." It's important to know that this decision is based not on how I feel, (because as I said, I'm uncomfortable,) but on what I know to be the right thing to do. We never grow if we refuse to step out of our comfort zone. So I'm stepping out. Maybe your goal is not to be THE best … but if you are an educator, you know that your work impacts students … and those kids deserve YOUR best.